The two had been riding a motorcycle in a byroad in Jaffna, when they were stopped and searched.
They had claimed they were taking the swords for rehearsal of a drama, but they were actual swords that could cause harm, said the officer.
These swords were also similar to the swords seized from several locations of Jaffna.
Several gangs in the north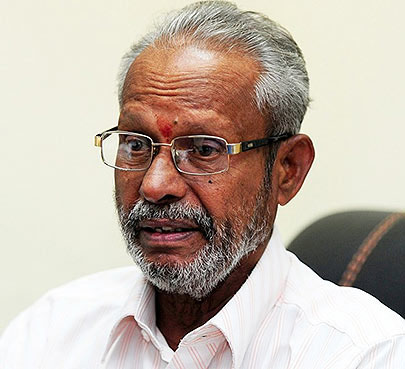 C.V.K. Sivagnanam
When contacted, chairman of the NPC C.V.K. Sivagnanam said the Jaffna public were being terrorized by not just one, but several, gangs.
Despite many complaints, police have so far been unable to make any arrests in connection with the robberies, intimidations and threats by these groups, he said.
When asked, police have told him that no headway could be made due to a lack of public cooperation, according to Sivagnanam.
Police have the powers, but are unable to arrest those responsible, and how practical it could be for the helpless civilians to reveal details of the gangs? he asked.
Claim of youth uprising false
Meanwhile, the state and Army intelligence have informed the president that there was no truth to media reports that have interpreted the recent incidents in the north as yet another armed uprising of the province's youths.
Only a few small gangs of thugs, commonly called Ava, are engaged in these incidents.
The name Ava has been derived from the leader of one such gang who was arrested in 2014.
Related articles: