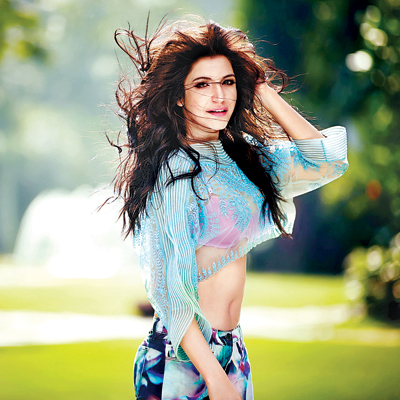 You seemed like the unlikeliest person to play a wrestler...
When I read the script of 'Sultan', I knew my role would require a lot of energy and effort because it would mean learning a whole new sport — wrestling — and then I had to train my body to look like a wrestler. Also, I had to learn a new lingo and guess what, I had less than six weeks to do all that. Those six weeks were crazy; I would be training in the morning, shooting in Film City and then coming back to Yash Raj studios for more training. I was not even in touch with my family. It really was exhausting and I had asked my staff to keep me away from whatever was happening, because, one, I was too exhausted and two, I wanted to focus. It is a novelty to see a female wrestler on screen and when I was chosen to play the role, a lot of people were skeptical and wondered if I could play the part. I am tall, but not a big person as one would perceive a wrestler to be. I started researching, then Ali (Abbas Zafar, the film's director) told me that wrestlers need not necessarily be big; they come in different weight categories.
What lessons did you take away from the film?
There is a beautiful dimension of a man-woman relationship in this film. I learnt that where there is love, there also has to be complete acceptance. Love stays even when things are not going the way you want it to be. Don't give up on love or on a relationship too soon. You realise that simple, basic things are more important. People might not be the way you expect them to be and there is no point in trying to change them. It is better to alter your expectations. It is best to give breathing space to one another and trust that love is real.
Professionally, things have largely worked for you, even though they seemed like huge risks at one point...
When you are an industry outsider, it works as a boon at times because you know you are not in a set format. There is always a positive and negative way of looking at situations. Either I feel miserable about not having anyone to fall back on or not being able to take guidance from my family, or I could see it as a big opportunity to do what I want with no set boundaries. That motivation to do beyond what I am doing comes from within.
I've always had a fearlessness, this urge to take risks. I believe that you must calculate the risks, but that calculation should not stem out of fear. Even while growing up, I always pushed myself to do much more than what was expected of me. I have too much energy and various experiences are important to me. I hate herd mentality. I want life to be interesting. I am brought up in a particular way where my parents taught us to continue taking risks and challenging ourselves. Ten years ago, I would have never imagined working with these directors and if I told someone I would be working with all three Khans, they would have thought I have gone crazy. But, it happened. So, anything is possible as long as you are honest about things and do it with the right attitude and intention.
You are the butt of criticism all the time, and social media trolls' favourite. How do you stop yourself from reacting?
I am very quiet about a lot of things. People think it's my confidence, but the truth is, socially, I am not a confident person. I am not comfortable at parties. I am confident of the work I do. At the start, being judged so harshly used to affect me and as a normal person, I used to think it is unfair. And then I started thinking what I must do about it. Nobody knows the hardships I've been through to reach here. I come from a regular middle class family and I have reached here on my own. Nobody wants to know how hard it was to reach here, nobody wants to know about my setbacks, or if I had friends to help me when I was struggling. I didn't and wouldn't ride on anyone's back for my success. So, when you come from that space, you have only one choice: to get yourself above the bullshit that you are served. I have probably been trolled the most, but these are the very people who will never bother to see how my personal journey till here has been. Trolls are frustrated people. If you notice, they mostly go after successful women because they can't accept it. 'How can she be there?' they wonder. Sonakshi (Sinha), Sania (Mirza) and I are trolled the most as we're soft targets. Let me put it this way: I had reasons to be sad then, I have reasons to be sad now. I had reasons to be happy then, I have reasons to be happy now. So, I am the same person. I relate to what Jim Carrey once said, "I hope everybody could get rich and famous and will have everything they ever dreamed of, so they can know that it's not the answer". So, if an a**hole chooses to try and bring me down, it'll only empower me to ignore him and continue doing what I do.
- Shubha Shetty Saha
(mid-day.com)