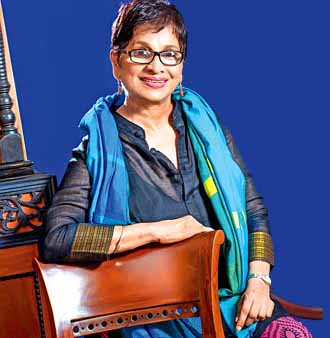 Released earlier this month, 'Agey Es Aga' casts Swarna in the role of the educated, stay-at-home wife of a university professor, embroiled in an unlikely, often unhealthy extramarital relationship. Refreshing is the candor with which the relationship is accepted by the professor himself, and helplessly by his wife, Swarna, who does all she can to deal with the affair, and what it presupposes.
With this strong and exemplary role, Swarna breaks once again the stereotype for women, showing how to draw strength from an inner reserve to act – whether in real life or cinema – with fortitude. The Daily News caught up with the iconic actress as she fielded calls from the 4th estate, keen to have a word with her on the heels of her latest movie, and having won her 5th Lifetime Achievement award at the recently concluded Derana Film Awards 2016.
Q: Can we go back to the very beginning, your first film – 1966's 'Sath Samudra'; how did that come about, who approached you, how much did you know about the director Siri Gunasinghe, what reservations, thoughts or doubts did you have about the opportunity at the time
A: Those days we didn't have any films, or TV, or any of those things. We had the papers and the radio. Siri Gunasinghe was my favourite writer, when I was doing my AL's, and I saw a picture of him on the front page of a paper, asking for a girl to act in a film. I reasoned that that would be the best way to meet him. I didn't really want to be an actress – I just wanted to see him. There was a panel with Vasantha Obeysekera, Siri Gunasinghe and a few others seated at a head table when I went in for the audition. When they asked me - when Siri Gunasinghe asked me, 'Do you want to be an actress' I said,"no, I wanted to see you." And they laughed, just as you did.
Q: You acted in 'Hanthane Kathawa', the very next year – so you could say that your career took off, almost immediately. Did you have plans to be anything else, at the time, before you began as a sixteen-year-old actor
A: I was very young when I got into the film industry. I was 16-and-a-half, going on 17, and as you know it will be 50 years in the film industry for me, next month. Did I want to be anything else before that Well, you know how it is when you are young, you see an airline hostess, you want to be an airline hostess, because you get to see the world, you see a teacher and the positive impact a teacher has on children, and you want to be a teacher – but nothing more than that, right
Q: Did you - after you got cast - have cold feet, get scared, and imagine you could not do this
A: Was I nervous and scared I don't remember when I look back – it's been so long! But I must have been very happy: Siri Gunasinghe, D. B. Nihalsinghe, they were our heroes. Siri Gunasinghe had just won an international award for 'Bhakthi', a documentary he made. They were famous and we would read about them in the papers. So it was a big deal. It was Gunasinghe's first film; he had never directed one before, it was Nihalsinghe's first film, and my first film.
Q: Was there any opposition from your family members, to you acting at such a young age
A: They didn't know. I didn't tell anybody. In fact, I went for the audition with a friend of mine's mother.
Q: Did you feel at any point that 'my school friends won't like me, I am going to be very unpopular with my peers as a result of this film'
A: Yes, actually, that happened to some degree: I was at Yashodara Balika Vidyalaya at the time, doing my AL's. I went for this audition, you know the reasons why, and I never thought they would choose me. I had kind of forgotten about it, also, let it slip from my mind. I had long hair, and for the first time I wore a Kandyan saree that I had borrowed from my friend's mother, and all the other girls were very professional looking. I was the only one with a 'gemi' look, from the village, with no makeup or anything. I never thought I would be cast. Then one day I got a telegram, asking me to come for a makeup test. I went for that makeup test, it was another girl and I, and they chose me. And then I started filming. We decided we would film during the weekends, because I was still in school and even they were working, they had day jobs. So this continued with no one knowing anything about anything, and then one day, the Observer carried a picture of me, saying I was the new actress in the 'Sath Samudra' film. Then I got scared to go to school and I didn'tgo to school after that. I decided I would go to another school to finish my education. But later on, very recently in fact, I met a teacher from my school, and she said they were very proud of me; but I didn't know that at that time. I just got very scared to go back to school. (laughs)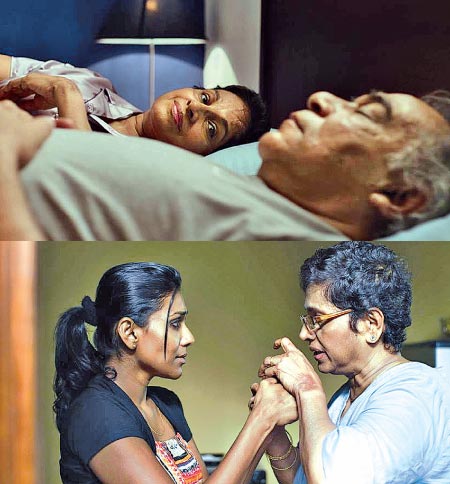 Scenes from 'Let her cry'
Q: It's been two decades since your last film. What have you been doing in the intervening years
A: Well, I have been bringing up my daughter. I am happy that she is doing well. She did her degree in medicine at King's College in London - she wanted to be a doctor, at first, and then later she changed track and did her Masters in Finance at the Cambridge University. I worked as a consultant at a non-governmental-organisation to bring her up and support her until she could support herself. You can't do any of this as an actress: I earn hardly any money as an actress! I also got into business. I started a shop called Choli, very early in the day; I had outlets at Crescat, at the Jaic Hilton, at Majestic City and at various other places – although my humble beginnings were at the Borella YMBA. I operated my shop for 10 years and then discontinued it. But last year, I took it up again, except this time, online.
Q: Are you happy to make a return to film
A: Yes, I am very happy. I like acting. But I don't do it all the time because you need a good director and a good script. And nowadays, even if you have both, it is difficult to release the films, as there is a massive backlog. So that's a problem that needs looking into.
Q: In a career spanning 50 years, you've been awarded 'Best Actress' a record 26 times, and 'Lifetime Achievement' awards five times. Do you attribute this success to sheer hard work and determination, or is there a part of you that feels you are achieving purpose, or destiny; that Swarna Mallawarachchi was born, for such a time like this, to serve a purpose such as you have been serving
A: I believe in God, so I do believe that there is a purpose, a destiny, that our life course is set a certain way. I also believe in hard work and doing your best.
Q: You are very different. You don't seem very interested in fame, you protect your privacy fiercely, you don't sensationalize yourself to the media and you choose strong roles, or roles with a lot of passion, or roles that women can look up to. Have you always been this kind of person
A: I am very disciplined; of mind and of life. And I believe in being disciplined, determined and strong in every area of my life and doing things as I see fit. I remember, when I was young, I always wore cotton sarees. Women in Sri Lanka never wore cotton sarees to fashionable functions or events – but even when I won the award for 'Dadayama', I wore a cotton saree that I had bought for 40 Indian rupees, you know – but the saree was gorgeous. So you could say I assign value to things other people don't really assign value to.
Q: Do you believe in rebirth and reincarnation, and if so, do these belief affect the day-to-day life Are you a religious person What is your philosophy in life
A: I believe in God, and I believe in His son Jesus Christ.
Q: Are you a fan of Western, Eastern, Asian or European fashion, film and culture
A: I love the Indian culture. I have travelled to many places and shopped at many places, but to me there is nothing like Indian fashion and culture. If I do any shopping, I do it there.
Q: Are you an avid reader What are you reading at the moment, and what book do you consider to have made the most impact on your life
A: Yes, I am an avid reader. I can't pinpoint one book that has made an impact in my life, in that manner, as I have read so extensively. I remember when I was pregnant, I read all the Russian writers, from Pushkin to Gorky to contemporary writers.
I read Marx, to Stalin and others and I read in both English and Sinhalese – so it would be difficult for me to pinpoint any one book that has made an impact.
I still read as much: nowadays we tend to read on the tab, but nothing like a good book. I still buy books.
Q: Any advice for young aspiring actors, or people, in general who need advice
A: Just do your best. Trust God and do your best.
-Roel Raymond
(dailynews.lk)