She remains as chirpy, bubbly and vivacious, while he has become quieter, more intense and serious, but one can see the sheer chemistry sizzling, sparking romance and quiet humour between the two.
While his way of being romantic is more subtle and deeper, hers is through gestures and words. Both complement and complete each other. Riteish says she lights up the room when she enters it. For Genelia, the sparkle in his eyes every time she looks at him, just lights up the room. Their love story in a cynical world full of breakups and separations comes as a refreshing inspiration to many in B-Town…
You've moved from friends to lovers and then marriage...
Riteish: I am glad that with Genelia, we met, became friends and then that friendship grew into conversations that went on for a very long time. The beauty of it was we didn't even know when we fell in love.
Genelia: I am glad that we went through all these phases because life is all about evolving and when you get married, there is a comfort level that I had with Riteish right from day one. The first three days, however, we didn't talk to each other.
Riteish: Karan Johar had written in Kuch Kuch Hota Hai… 'Pyar dosti hai, agar woh meri sab se achchi dost nahin ban sakti to main us se pyaar kar hi nahi sakta.' (Love is friendship, if she can't be my good friend then I cannot fall in love).
Genelia (laughs): Yes he used that line a lot… He was a complete fan of all these filmi dialogues…
Riteish: Stop it, you are embarrassing me… (Genelia laughs)
Genelia: He came to me and asked me, 'Do you think two people can be friends?' I was like what?
Riteish: That's because Sooraj Barjatya in Maine Pyar Kiya said, 'Ek Ladka aur ek ladki kabhi dost nahi ban sakte…' (Both burst out laughing)
Do you believe in love at first sight?
Genelia: There's something definitely about liking at first sight, I don't know whether it's love. I like the fact that love develops as it happened like that with both of us. It was interesting to have different phases in your relationship — first you are just acquaintances, then it's something interesting about the person you want to meet or call… I like all of that. I think eventually that's what is love is. I don't think it was like we met each other and it was like 'OMG, we are in love!' The first thing that I liked about him was respect. He was the CM's son then, so I was very guarded…
Riteish: She wouldn't even look at me!
Genelia: Eventually, I realised that he was brought up so well, the nice way he behaved with people and that came across… I could have a conversation with him, talk to him, there was a certain respect towards elders which makes it interesting. There are some people who just come with an attitude and it was refreshing to see Riteish came with none.
Riteish: If you get attracted at first sight, love will eventually happen. The first thing that I fell in love with about Genelia was her smile and her energy. She is fun to be with and she can light up any place, any mood and that's personality-driven. Either you have it or don't and if you are faking it at one point you will crack. With her that was something that really struck me then and it's still there… Now, sometimes I can't handle this energy…
Riteish: You get struck at first sight, love develops. If you get attracted at first sight, love will eventually happen. The first thing that I fell in love with about Genelia was her smile and her energy. She was fun to be with and she can light up any place, any mood and that's personality-driven. Either you have it or don't and if you are faking it at one point you will crack. With her, that was something that really struck me then. It's still there… Now, sometimes I can't handle this energy …
Genelia: Yes, I have some kind of energy! I get up in the morning and I'm like 'Good morning!' Earlier, Riteish would take half an hour to figure out that he's woken up but now, he says 'good morning' when he wakes up and then he says, "Now, it's my paper time'.
Riteish (mock frowns): You are giving away all my secrets.You answer all the questions! Yes, I read around 10 newspapers then as I love catching up on all the news and my day starts with DNA (both laugh).
Genelia: The first thing when I wake up… I love greetings. I would probably hug Riteish and then my son when I wake up. But now he wakes up earlier than me as I sleep later. I wake up with a lot of love and energy as it's a new day kind of feeling. I enjoy waking up to Riteish.
Riteish (tongue-in-cheek): How wonderful it is to wake up to someone who has all these qualities! I feel sad that you have to wake up next to me (laughs).
Your second baby is on the way, 10 years of dating, four years of marriage and you two still look like lovebirds.
Genelia: That's a big compliment! (smiles)
Riteish: I don't know… We have always been like this. Eventually, with years and the kind of information you get during those 14 years, must have doubles — we must have met so many more people, become more mature, once you are married you have children, responsibilities so you will change but it's important to retain those aspects that made you fall in love and make the effort of doing certain things together.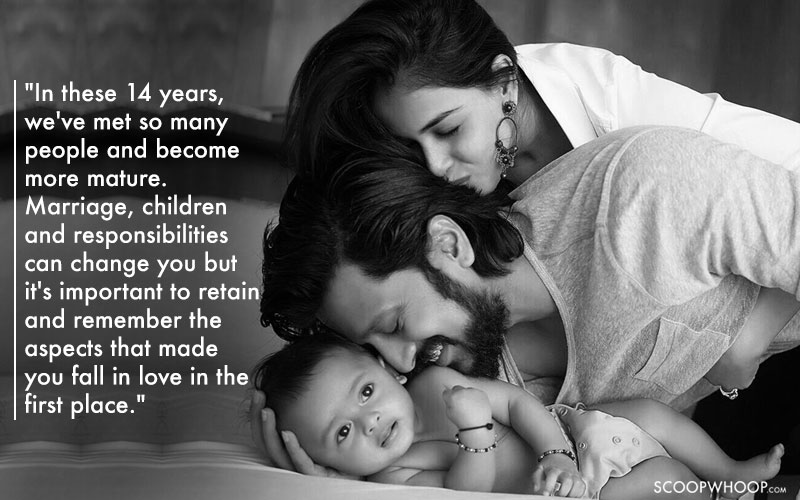 Genelia: Yes. Like we are particular that no matter how busy one is we have to sit for one meal together in the day. I will wait up for him if he's working in the night or he will wait for me but once meal has to be together. And when we are together we try to just keep it between ourselves like we don't watch TV, some kind of interaction so that's nice. Growing together at every stage is great as our lives will get busier and busier, but it is important not to forget yourselves as well. Once a child comes in, you are just so busy doing the right things that you forget you are a couple too…
Sometimes the husband feels left out…
Genelia: You don't feel that, na? (Asks Riteish)
Riteish: Never! By the time I come back from work, it's almost 9 pm and she's been at home with our child throughout the day. Even if I am late and I am out the entire day, we figure out twice or thrice a week how we can spend time together. Maybe we go out or call some friends over or step out for some coffee. So that time is just for me and her and then we catch up on what's happening in each other's lives and just connect.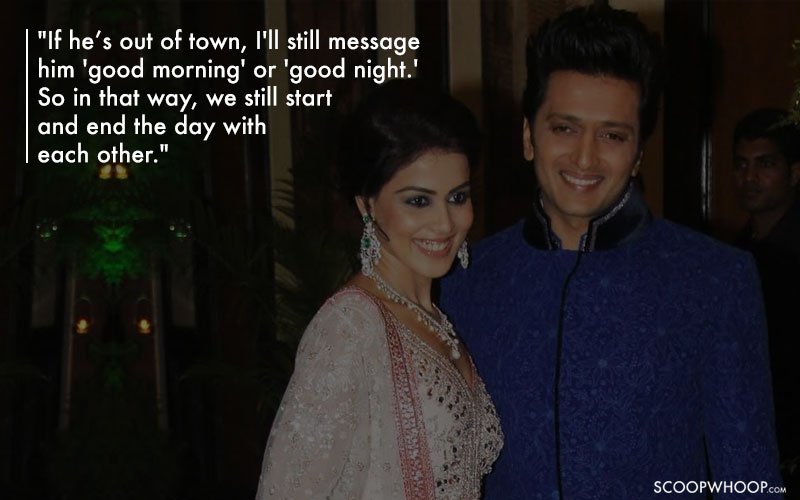 Genelia: It's not just about spending all our time together, as we love company too. We think our personalities develop more when we have more friends, our conversations are more interesting and for me that entire time I step out, because I am so much in the house, I look forward to spending that time in the car that Riteish takes to reach his destination, so we have a couple of moments with each other. We get back, talk, read and do little things and if he's out of town I will still message him a Good Morning or Good Night, so we still start and end the day with each other. It's not an effort, we want it. When he was playing his matches, I didn't travel with him, but the first thing we both did when we woke up was send each other Good Morning messages.
People say that marriage takes the life out of romance and makes it dull. True?
Genelia: It can, if you choose to let it be. Like Riteish says 'Every relationship has to be worked on'. Marriage is no different.
Riteish: Relationships need to be re-invented in every phase and you need to adapt to that phase and re-invent yourself because both of you are different people from the time you started dating each other to the time you get married and post marriage. Tomorrow, I will be different, so everything needs to be worked upon as the dynamics keep changing. I started dating her when she was in her teens and I was in my early 20s, so now eventually after 14 years of being together there's a certain beauty in whatever we do. It's like finding romance with a child in your hand. Earlier, it was romancing each other when no one knew, then a few close friends knew so it was a different kind of romance, you could walk out there holding hands, then later a stage came when we got married and could be officially together. Now, marriage is holding hands with a child in the middle. That's the charm of it.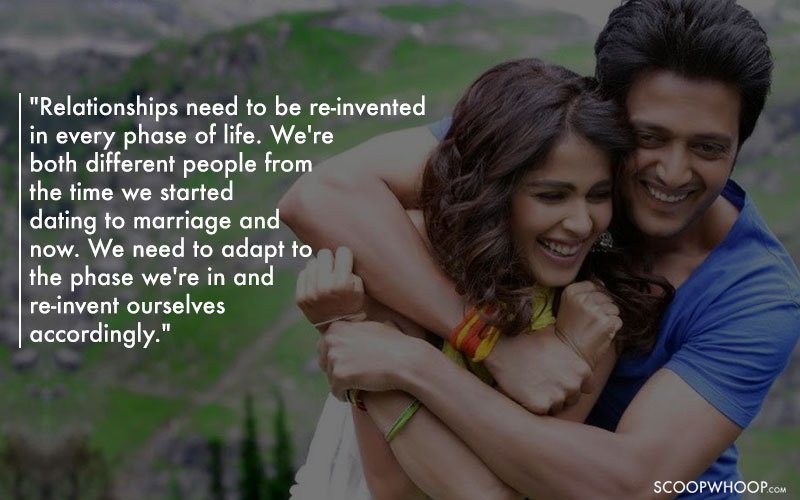 Genelia: Holding hands is my favourite form of romance. I love holding Riteish's hands wherever we go.
Riteish: It's like if I step out, I will look for her hand. It's a rarity that I will be walking with her without holding her hand.
Do you fight at all?
Genelia: We don't fight. We have our arguments and discussions. I have learned that from Riteish; never to sleep on a fight.
Riteish: More than arguments, we have our disagreements. We discuss it out. We don't argue over what movies or TV channels to watch, or food.
Genelia: I am more of a food person, but we have a kind of understanding between us about our preferences.
Riteish: She's okay with whatever I watch — movies or TV — as she knows those are my passions. When she says food, I am okay with whatever she wants; that's what she loves. We are fortunate enough to be in a zone where our interests blend in. I am okay with food — I can eat the same thing every day. We fit in so well that we have changed our likes and dislikes accordingly. I will never ask for some food which she doesn't want or she won't ask for some channel which I don't watch. Of course, we have our difference of opinion on various things — for example, the main argument I might have is the fact that I don't have enough time to give to her. She says I don't give her enough time. I have time, but I can't manage it well.
Genelia: That's true. I feel he doesn't know how to manage his time. As a person, I feel you need to prioritise constantly. I have been part of the film industry, but I have always had time for Riteish like he could call me at 2.30 am and I would be there for him.
Riteish: I have realised that my behaviour is that of a married man and father but my time management is like that of a single guy (laughs). Earlier, I would come home at whatever time I liked as I would chill with friends but now after Riaan's birth, I make sure I get home before he goes to sleep as he gets to bed early.
Do you believe in Valentine's Day or it just another normal day for you?
Genelia: When I was in college I used to think it's the best day ever. But when we started dating, it also was very difficult for us coming from the space we were in. We were always out, but I don't know how we never got caught (laughs). Today, for us, it's not just Valentine's Day. We will find another day to celebrate our love. February is a very special month for us. We got married on Feb 3.
Riteish: We started dating each other from February 12, so we celebrate that day as well. That's our Valentine's Day. There! We've told you our secret. And we completed 14 years together the day before. We were never caught because we used to meet for dates in town and the paparazzi doesn't come there.
Genelia: During the time we were dating, Riteish would send me a huge bouquet on Feb 12 every year at home and my mother would be so confused as to why anybody would send me flowers on that day (laughs) and I would act surprised and be like 'Yaa,it's so nice.' She didn't know that we were dating, but they were always cool about it. They told me whenever I told them about him, they would be fine about it. They would never get into my space as they left it to me. So I never pressured Riteish too about when we were getting married or a commitment. Never ever have I asked Riteish what's the next step in this relationship. He never proposed… I made him propose!
Riteish: Stop! This is so embarrassing! You are letting out all our romantic secrets… Next year, I am going to give you a filter for Valentine's Day! (Genelia laughs) Do I believe in Valentine's Day? Yes, I knew it's a special day and way back in college it's a day where everyone's celebrating love, they want to impress someone, someone has a date, someone trying to say I love you to someone and the beauty is that for us, the day after Valentine's is also a very special day. It's for all latecomers who couldn't celebrate it the day before or forgot and yet Valentine's Day is special. It's a festive moment. The whole energy in colleges is so vibrant.
Who is more romantic?
(Both point to Genelia)
Genelia: I love romance. I think it's the best thing in life. Once you let go of that, you let go of life. Riteish is romantic in a very different way. His way of expressing romance is of putting up a picture like he did on Twitter on our anniversary this year. I didn't even know it was out as I was busy with Rian and I didn't have a nanny. I was getting calls and wondering why are people suddenly calling me! Some people said what a beautiful pic and I was like, 'What pic?' When I checked, I was just stumped. It was just something else. He can find romance in just us sitting together quietly here and talking. He says, 'let's go out, do something together'. We don't have issues about both wanting to do different things.
Riteish: For me, just holding hands is romance. It's not about gestures. Love is to be expressed and not shown. Three years ago when our anniversary was coming up I thought let me set up a nice romantic dinner on a beach with fire where they set up a dinner table and the path to the table was lit up by these candles. They set up the first course but you the light was so less (Genelia bursts into laughter) I couldn't see what I eat! I was like yeh romance ki chakkar mein khaana dikhega nahi! (Both laugh)
Genelia: I was like — 'Wow! You have outdone yourself!' He hates darkness.
Love makes the world go round…
Genelia: For sure! I have to add that though Riteish comes across as being very serious and practical he's more romantic actually than me.
Riteish: Of course. There's no life without love and love can be in any form.
Marriages are breaking up all around in Bollywood. Tell us the secrets for a happy and successful marriage.
Riteish: Respect. Happy wife, happy life. Give your partner time. In life, your priorities should be set and work according to them. In an argument, always say sorry! (Both look at each other and burst into laughter) When we have discussions I am always the one who is wrong.
Genelia: He won't say that. He will ask me if I am upset, I will say no and he says okay.
Riteish: If a boy is upset, he will say it. When a girl says no, it means yes. I can never understand the workings of a female mind. So if she says she's not upset, I take it at face value. I will ask her if she is, she says, 'No, I am fine.' So I am like, 'Okay let's go and watch a movie. That's the way it gets sorted.
Genelia: Never go to sleep leaving an argument or discussion open because as he says it's a new day the next morning.
Riteish: The next day for a relationship between a guy and a girl has to be a new day. It cannot continue till the next day.
Genelia: I agree with Riteish, but I also feel in a relationship between a girl and a boy, one of them has to be a little less ambitious. Between the two of us, I am less ambitious and I feel that's what makes our relationship go ahead.
Riteish: Do you really think so?
Genelia: Yes I think so. Someone has to give a little more time than the other, be more flexible. I take out more time than Riteish because he's working at this moment. There are other small things like if I am going somewhere and catching a flight, my last call would be to Riteish and when I land, my first call would be to him. I feel that's what makes the world go round. You never know what will happen next… If he's heading out to work I will leave him to the door. On special days I love to celebrate and I think it should be done no matter how busy how life is — go out, spend time and enjoy ourselves, even if it's not elaborate. But lock the world out. It's important once in a while just have conversations and spending some time together. I love growing old with someone that you love… I don't have this whole fixation of growing old. I think growing older with every relationship is beautiful. I feel one should live life to the fullest. What's nice is we are not very possessive about each other as a couple which can create unnecessary issues, though I have to add that I am more possessive than him. If someone feels neglected or not taken care of, it doesn't matter why they feel so, don't make someone feel they have done something wrong, just go and spend time, that's all. It doesn't matter how or why I felt it, just make up as it just makes it a better day.
Riteish: If there's an issue, you can hold on to it and stretch it beyond a point. Any small thing can become big if you let it fester and any big thing can become small, if you let go. That makes a relationship go further. We waste too much energy in holding on to issues.
Genelia: Earlier I would keep fighting with my friends but Riteish would tell me, let go be a better person and that has changed my life. That's a great quality I have imbibed from him. Riteish never holds onto any issue. But I also sometimes caution him to be more aware of things happening around him.
What's the one thing that you have imbibed from each other?
Genelia: I enjoy art. He makes it an interesting holiday for me. We visit art galleries while on holiday and it's so interesting. I knew nothing about it before. I won't buy an art piece, but I will enjoy it because he loves it. It's something that you enjoy of your partner, that makes you complete. Completion happens with your partner.
Riteish: I think I have started enjoying food now because of her. Earlier, I never used to have breakfast but now we sit together and enjoy it. Also little things like she knows what restaurant has come, what food we should have so that makes it more exciting. Relishing my meals is something I have learned from her. There's a difference between food and meals. I used to have food earlier, but now, thanks to Genelia I have started enjoying the quality of my meals and different cuisines.
What's the most romantic thing you have done for each other?
Genelia: I can't say half the things! (Laughs, while Riteish glares at her)
Riteish: I can tell you what she has done for me. Sometimes, to understand what someone has been wanting to do for a long time and someone makes it happen for you, that's amazing. Genelia made it happen for me. I had been wanting to do something with photography for over 15 years so for my birthday she went and spoke to all her photographer friends and asked them what camera she should buy for me. She gave me this great camera and some lenses on my birthday. So now, on the sets of Banjo, I have a photographer friend who comes and teaches me everything about it… That camera doesn't have auto-focus, so I have to sit and learn everything. It's not the expense, but the thought. I always wanted to learn the magic behind the pics and now, thanks to Genelia, I am.
Genelia: I know he loves that. He enjoys it more than anything else.
Riteish: She buys the best gifts, but has the worst way of giving it! (Genelia nods her head) She will come, put it next to me and walk out.
Genelia: I feel very embarrassed about giving gifts, I don't know why… The most romantic thing he gave me was on one of my birthdays. Riteish was travelling for a world tour and would pick up cards from every location, including NYC, Frisco etc. I knew he was abroad so I wasn't expecting anything and then suddenly, I get this parcel at home which was full of postcards from all the cities he had gone to. I was floored! For me, it means everything to get anything — anything from flowers, letters to cards. We write letters to each other on every occasion. So that for me was the ultimate romantic gesture!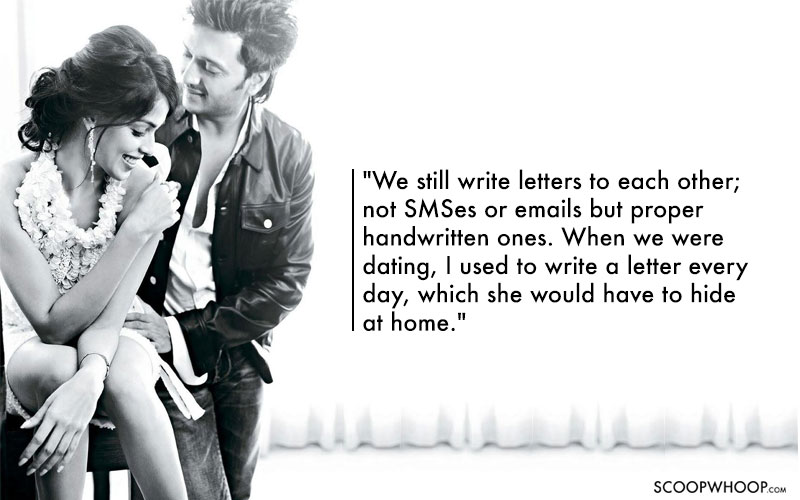 Riteish: We still write letters to each other and proper, handwritten ones, not SMSes or emails. When I was dating her, I used to write one every day.
Genelia: But I could not keep his letters at home for fear of getting caught, so I gave them to him for safe-keeping. We both have all the letters. After I got married, I took back his letters and now have them with me.
RAPIDFIRE
Your favourite love story...
Riteish: The Notebook.
Genelia: Ours! I'll stick to our love story.
Riteish (Quickly): Ya, ya! Definitely our love story! (Both laugh)
My idea of romance is...
Both: Holding hands.
Favourite flowers for Valentine's Day?
Genelia: I love all flowers.
Riteish: Red roses (Genelia beams in approval). It's a red Valentine, so it has to be red roses.
Favourite movie on Valentine's Day?
Genelia: Shall We Dance?
Riteish: Bridget Jones's Diary.
Favourite romantic line from a movie?
Genelia: "I am also just a girl standing in front of a guy asking him to love her," from Notting Hill. I visualise Riteish when I think of it.
Riteish: Mine is "You had me at hello!" from Jerry Maguire. Or even "You complete me," from the same film.
Any song that best describes your relationship?
Genelia: I love Rod Stewart's Have I told You Lately That I Love You? I always feel there are not enough times when I tell him that I love him.
Riteish: Tujhe Dekha Toh Yeh Jaana Sanam. And... (Genelia starts singing Tujh Mein Rab Dikhta Hai... and both smile)
If you both could go somewhere for a day to spend Valentine's together?
Genelia: Goa. We both love the place. It's our all-time favourite holiday spot.
Riteish: We don't have an agenda, sometimes we don't step out of the hotel, just walk around, read books… just spending time together.
Ideal Valentine's Day?
Genelia: I will take Riteish away and keep his phone at home. Sometimes, I feel his first love is his phone.
Riteish: Oh, you mean, I would go with my phone and keep you away! (Pulls her leg) I would go with Genelia and keep my phone away! (laughs)
Most memorable gift to each other?
Both: Riaan
Upala KBR
- DNA